Community baby shower at Beverly Hills Middle School a help in maternity desert
About 100 attend despite the rainy weather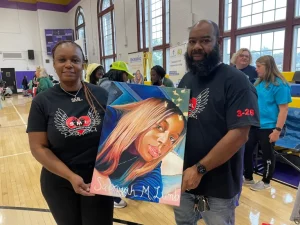 Chemeek Lumb, left, and her husband, Michael hold a picture of Sabriyah, their 19-year-old pregnant daughter whose death led to the creation of the SML Foundation at the Community Baby Shower on Saturday at Beverly Hills Middle School. (KATHLEEN E. CAREY – DAILY TIMES)
By KATHLEEN E. CAREY | kcarey@delcotimes.com | delcotimes.com
PUBLISHED: October 14, 2023 at 4:53 p.m. | UPDATED: October 14, 2023 at 5:01 p.m.
Pink, purple and teal balloons draped the doorway of the gymnasium at the Beverly Hills Middle School on Saturday to celebrate the attendants of the Community Baby Shower.
"When we talk about having a program like this, this is good because we have lack of access here," state Rep. Gina Curry, D-164, of Upper Darby, said. "So we have a true need for services and that's why this program is wonderful today so that people can really get out and understand what's available to them in the process of having a complete maternity desert in our community."
Delaware County Memorial Hospital closed its maternity ward in January 2022. Eight months later, Crozer Health announced a reorganization plan that resulted in the suspension of emergency department services and others at the facility.
Saturday was a day for pregnant women and families with children to learn about available resources in the area with 35 organizations offering resources at the event sponsored by Curry, state Sen. Tim Kearney, D-26, of Swarthmore, the Maternity Care Coalition and the Foundation for Delaware County.
Chemeek Lumb was passing out diapers, booties, toys and other items in honor of her 19-year-old daughter, Sabriyah M. Lumb.
"Sabriyah passed away almost three years ago in a car accident and she was with child," Lumb said. "So, my husband and I, we put together the foundation … Turn our pain into our passion and keep her name going 'cause she was loving. It's something that she would be pleased with."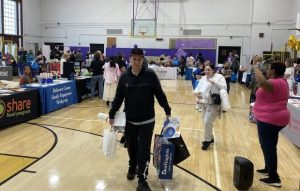 Community members attend the Community Baby Shower at Beverly Hills Middle School Saturday. (KATHLEEN E. CAREY – DAILY TIMES)
In 2021, Chemeek and Michael Lumb created the SML Foundation to provide necessities to expectant mothers and mothers with infants.
Chemeek Lumb said it was in honor of who her daughter was.
The 19-year-old Upper Darby High alum was studying education at Bloomsburg University, her mom said.
"Sabriyah was such a light. She was such a giver," her mom said. "She had such a heart. She volunteered in the special needs. She was in college to be an educator for the special needs."
And it was in that spirit that the Lumbs were at the Community Baby Shower.
"What's important is giving back to the community," Lumb said. "People are in need. If we could lighten the load off a family, that's what we're here to do in her honor and legacy."
Feeding a need, too
Desiree LaMarr-Murphy, founder and CEO of Murphy's Giving Market, had crates of cucumbers, bananas, oranges and tomatoes to give to the pregnant moms. She wanted them to know about the market she has at West Chester Pike and State Road that's set up as a supermarket, but the items are free.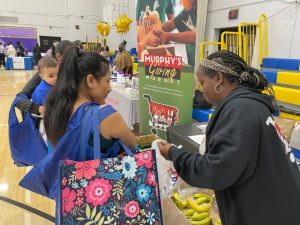 Desiree LaMarr-Murphy of Murphy's Giving Market distributes fresh produce to attendants of the Community Baby Shower. (KATHLEEN E. CAREY – DAILY TIMES)
"People come in and shop for the food that they want, so it's not like your typical pantry where they give you a box," LaMarr-Murphy said. "They would come in and shop. We have everything from meat to produce to everything you see in the supermarket."
She explained that Murphy's focus is on providing healthy, fresh and nutritious foods for the community beyond boxed macaroni and cheese and canned goods. She added that the food is sorted to make certain it's not molded or rotted, as well.
"We focus a lot on culturally-relevant food, especially in Upper Darby and also on foods that are healthy and nutritious," she said.
LaMarr-Murphy spoke about being at the Community Baby Shower.
"We want to promote healthy eating for our pregnant moms," she said, adding that the the most nutritious and healthiest foods often cost the most. "When you're on public assistance, you get $6 a day for food stamps, less than $6 — for the day — that's all three meals. At Wawa, that's a hoagie. But at the supermarket, that's a bag of oranges."
Her hope is to give all of those who come to the market the same options as those who are not on public assistance.
'More resourceful'
Delaware County resident Christina Grant, who's eight months pregnant, appreciated the baby shower.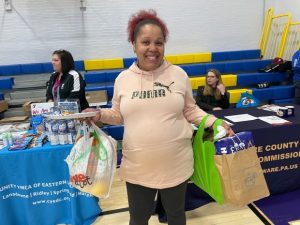 Christina Grant attended the Community Baby Shower at the Beverly Hills Middle School and appreciated the available resources. (KATHLEEN E. CAREY – DAILY TIMES)
"This event is a lot more resourceful and informative than some," she said, adding that she liked getting information about the availability of doulas in the area. "A lot of people don't know about doulas or midwives or their rights as pregnant women and things that you can have access to in the hospital. It's been 21 years since I had a baby, so for me, it's like, I need this. I need the resources."
The New York/New Jersey native said she also liked the giveaways.
"You get a lot of books, which I'm all about the reading for the baby," Grant said, adding, "It's my first baby after 21 years so I'll take all the resources."
And that was the whole point for the organizers: to connect community members to existing resources.
"If somebody just finds out about an organization that they didn't know about, that will make all the difference because then people can learn something they never knew," Gwen McCullough, Kearney's constituent relations staff member, said.